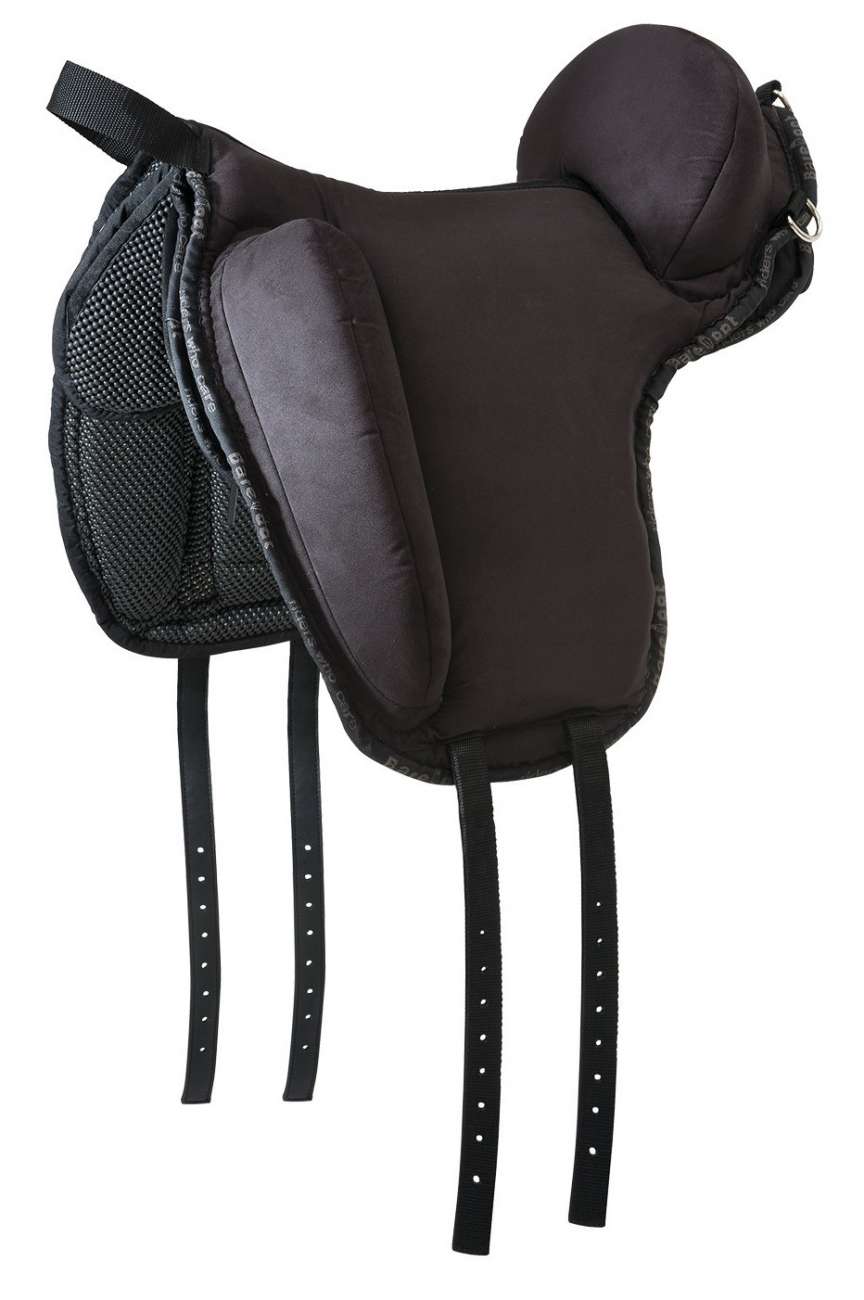 Barefoot® 'Ride-on-Pad' Physio Support
Order number:
RIDE-ON-KROLL-PH-S-01
comes with 2 different sets of shims
qualified for older horses and heavy riders
Horse friendly v-girthing
Slip-proof underside with Sympanova
Grab handle made from sturdy nylon
Barefoot® 'Ride-on-Pad' Physio Support
Ride-On-Pad `Physio Support` with knee rolls
Barefoot® Ride-On-Pad Physio Support with large knee rolls add to support the rider´s legs whilst the high, soft cantle encloses and supports rider at the back. The underside is made of Sympanova to prevent slipping on horse's back.
The underside has an additional padding pad. Included are 2 sets of shims (1 pair of cellular rubber shims and 1 set of soft PU foam). The padded underside ensures spinal clearance and also additional protection for the horse's back. Difficult saddle positions can be balanced by cutting shims.
The Barefoot® Ride-On-Pad Physio Support has no stirrup attachments to avoid any pressure on the horse's back muscles.
With most bareback pads girth attachment runs straight across the back and puts pressure on one or two spinous processes - the Barefoot® Ride-On-Pads are more horse-friendly: The concealed girth straps are mounted centrally on skirts and therefore distribute pressure over the whole area.
The Barefoot® Ride-On-Pad Physio Support gives the rider a really secure seat close to the horse and is stable on the horse's back due to non-slip underside.
• D-Rings to secure bags
• Nylon carry handle
• horse-friendly rigging
• non-slip, padding underside
• large knee rolls and secure seat
Size: S, L (dress size german 32-36 or 38-44)
Colour: brown or black
Size S = Lenght: 53 cm, Length of flap: 48 cm
Size L = Lenght: 60 cm, Length of flap: 53 cm
Tip: The Barefoot® Ride-On-Pad Physio Support is not suited for smaller ponies due to long saddle skirts and rigging. We recommend: use Barefoot® Ride-On-Pad in pony size for smaller ponies like Shetlands.
Sheepwool
This product is made from pure sheep's wool and has almost the same antibacterial and pressure-absorbing effect as sheepskin, but for us there is one important difference: As opposed to sheepskin, it is not necessary to kill the animal in order to obtain the product. After shearing, the wool is mechanically applied to a textile substrate and put to use in the manufacturing process of our products.
Ride-On-Pad `Physio Support` with knee rolls Barefoot® Ride-On-Pad...
more
Customer evaluation for "Barefoot® 'Ride-on-Pad' Physio Support"
From:
Barbara Straub
On:
25 Oct 2019
Mein Pferd und ich sind happy mit dem Pad
Mein Pferd läuft viel flotter und flüssiger mit dem Pad. Besonders schön finde ich, dass ich den Rücken von meinem Pferd fühle. Er hat viel mehr Bewegungsfreiheit und ich brauche nur minimale Hilfen geben. Ich muss mich noch ein bisschen daran gewöhnen, ohne Steigbügel zu reiten. Ich finde aber, dass man in dem Pad einen guten Sitz hat. Die Polstereinlagen anzubringen war etwas Fummel-Arbeit. Trotzdem bin ich der Mein, dass das Preis-Leistungs-Verhältnis passt.
Auch die telefonisch Beratung war sehr sympathisch und hilfreich.
Ich hoffe, wir haben noch lange Freude an dem Pad!
From:
Dana
On:
24 Oct 2019
Sehr schönes Reitpad auch für den Dressursitz
Pferd und Reiter fühlen sich mit diesem Reitpad wirklich sehr wohl. Pferd läuft sehr entspannt und deutlich konzentrierter, als z.B. mit eimem Baumsattel. Abzüge gibt es für die schwer einzubringenden Polstereinlagen. Klett/Einschubtaschen wären hier sehr hilfreich und benutzerfreundlicher. Vorne ist es tatsächlich etwas schief geschnitten, das sollte man verbessern. Ansonsten eine wirklich gute Alternative zum normalen Reitalltag.
From:
Tanja
On:
10 Oct 2019
Support - I love it
Mein Pferd läuft viel locker und würde am liebsten gleich laufen, weil sie damit gefreut hat, endlich dieses "Freiheit Gefühl" zu haben!
Super Halt - beim Buckel gab kein Problem.
Das einzige Minus Punkt ist, bei widerrist ist irgendwie schief geschnitten, aber für uns kein Problem! =)
From:
Chantal Maurer
On:
15 Sep 2019
Sehr gut
Sehr tolles Produkt. Perfekt verarbeitet und ich sitze wie auf Wolken.
From:
Marie Knote
On:
24 Aug 2019
Tolles und bequemes Reitpad !
Zunächst muss ich den wahnsinnig tollen Kundenservice bzw. die engagierten Mitarbeiter von Barefoot loben! Ich bin so glücklich, dass ich diesen Monat doch noch ein Pad in schwarz und in Größe S bekommen konnte! Auf mein erstes Reitpad war ich dann sehr gespannt. Da ich eher ein vorsichtiger Typ bin, habe ich mich für das Support mit den Pauschen entschieden. Ehrlicherweise muss ich sagen, dass das am Anfang ungewohnt war, weil man sehr eingerahmt sitzt. Allerdings geben eben genau diese auch eine große Sicherheit, so dass ich direkt mit meiner Konikstute zum testen ins Gelände gegangen bin. Man vermisst Steigbügel überhaupt nicht und sitzt in allen Gangarten wie angeklebt. Ich habe es auch an eine Bekannte mit einem 1,75 Warmblut mit hohem Widerrist verliehen, deren Fazit am Ende genauso ausfiel. Selbst der Widerrist ist durch das Pad nicht zu merken. Würde ich definitiv weiterempfehlen!
From:
Christine Enisz
On:
11 Aug 2019
Top in der Qualität und Verarbeitung
Tolles pad auf zwei komplett unterschiedlichen Pferden getestet, Araber Pony 130 und 175 grossen schwungvollen Warm Blut getestet. Echt super auf dem Platz alle gangarten sogar gesprungen bis en gutes A. Selbst buckler sitzen können oder im Gelände huch da is ja was. Bin begeistert für gut befunden und darf auf Dauer einziehen.
From:
Gitta Neumaier
On:
1 Aug 2019
Perfekte Lösung für das Reiten ohne Sattel, besonders für alte Pferde
Das Reitpad ist spitze. Ich habe einen 25-jährigen Württemberger Wallach, der einen sehr schwach bemuskelten Widerrist hat. Das Reitpad füllt diesen Raum super aus, zum ersten Mal kann ich ihn ohne "Sattel" reiten ohne das ich danach Schmerzen habe. Auch habe ich das Gefühl, dass es ihm viel mehr Spaß macht, damit zu reiten... Ein riesen Vorteil ist auch die leichte Hilfengebung wodurch meiner Meinung nach eine noch bessere Kommunikation ensteht. Ich kann das Reitpad Physio Support von Barefoot nur empfehlen! Super Sitz, super Halt, macht mir jetzt schon viel Freude.
Write an evaluation
Evaluations will be activated after verification.
Read, write and discuss reviews...
more