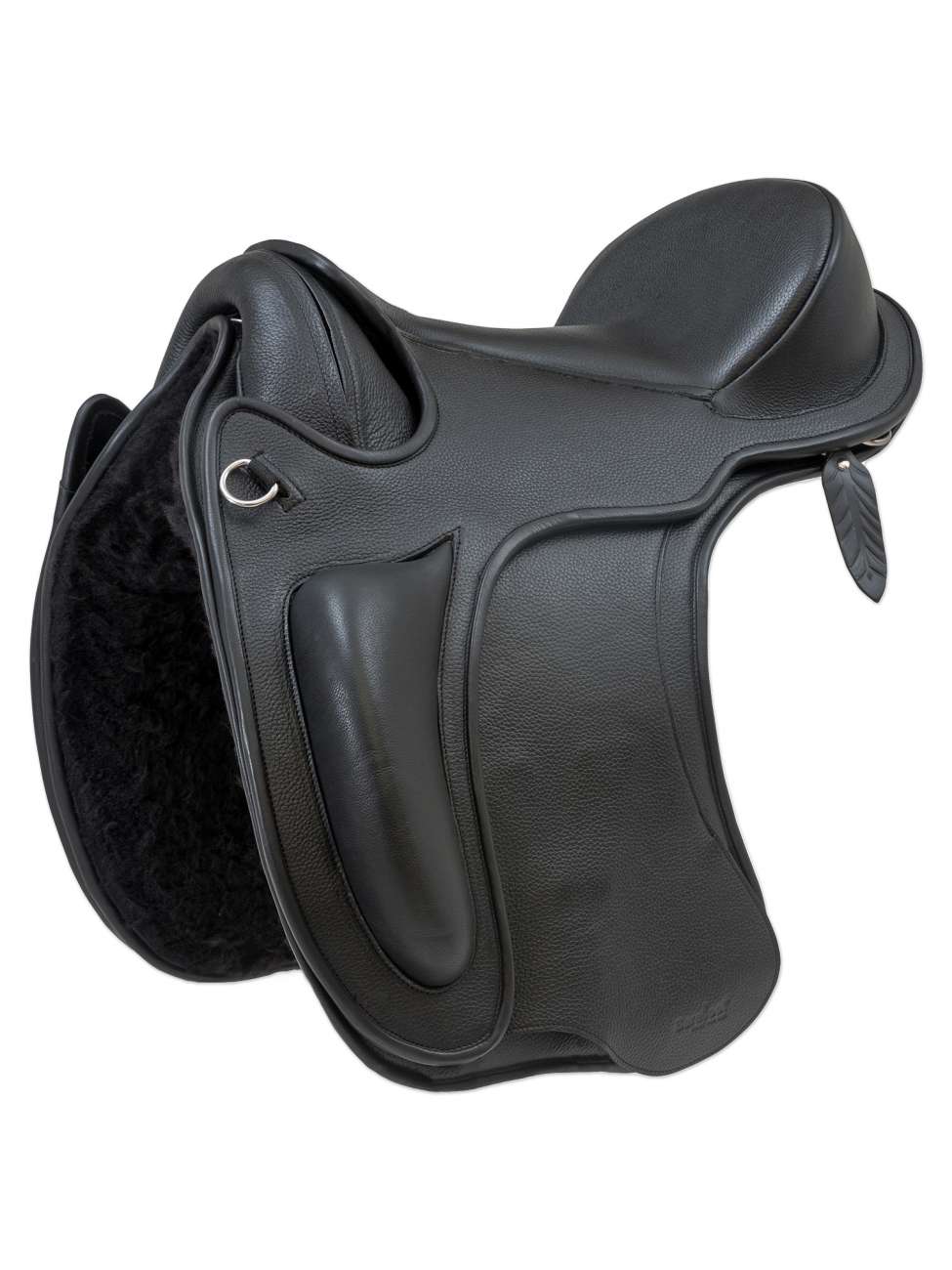 Barefoot® PRO 'Barrydale'
Order number:
PRO-BD-1-01
multi purpose saddle in dressage look
with PRO seat for a narrower seat
open-pored soft leather, super adaptable
close to the horse, free and comfortable seat feeling
large, anatomically shaped knee rolls that provide support for the rider
deep and secure seat
Prices incl. VAT plus shipping costs
nur noch wenige Artikel verfügbar. Lieferzeit ca. 1-3 Werktage
Barefoot® PRO 'Barrydale'
Barefoot® PRO - for an even better riding experience!
The new PRO seat allows the rider to sit more narrowly and helps to achieve a more upright, hip-friendly seat.
The Barrydale is especially appreciated in dressage and endurance riding. The large attached knee roll positions the leg stably even on long rides and provides a comfortable frame for the rider.
In the Barefoot saddle you feel the work of your horse's muscles and movements of the back, thus it builds the basis for fine riding.
The open stirrup attachment (2.5 cm) can be individual positioned between the seat and the saddle. This allows you to individually adjust this saddle to your seat and body measurements.
The changeable pommel (supplied in the medium size) is replaceable, as with all Barefoot saddles.
flexible in all 3 dimensions (X,Y,Z)
no pressure and therefore no restriction of muscle development
with VPS system
flexible V-girthing
freely positionable, open safety stirrup attachment
comfortable seat close to the horse
dense woven fur underside
weight only approx. 6 kg
color: black
sizes: 1, 2
Delivery includes saddle protection cover.
Healthy back due to our VPS System
VPS stands for vertebrae protecting system. It consists of a combination of different materials which enable the rider's weight to be distributed evenly over the largest possible saddle area .Even at a standing trot, the rider's weight is distributed over the entire saddle surface there is therefore no weight restriction for riders. For more information see: Barefoot flyer VPS-System.
Exchange pommel Size Middle
We normally deliver this saddle with an exchangeable pommel insert in size MEDIUM. Each Barefoot saddle is equipped with an exchangeable pommel at the front, which allows it to be adapted to the shoulder width of your horse. With the help of our measuring template you can easily determine the correct size of pommel insert for your horse (Link: Measuring template + instructions).
Velcro Stirrup Attachment open and free positioning
The open stirrup suspension with Velcro fastening is attached between the seat and the saddle substructure and can therefore be easily adjusted. This means that the saddle can easily be adapted to riders with different leg lengths simply by moving the stirrup suspension either backwards or forwards.
Narrow Stirrup-Attachment
Narrow stirrup attachment approx. 2.5 cm width, suitable for all English stirrup leathers and narrow fenders.
Flexible V-Girthing - even works for critical horse girth areas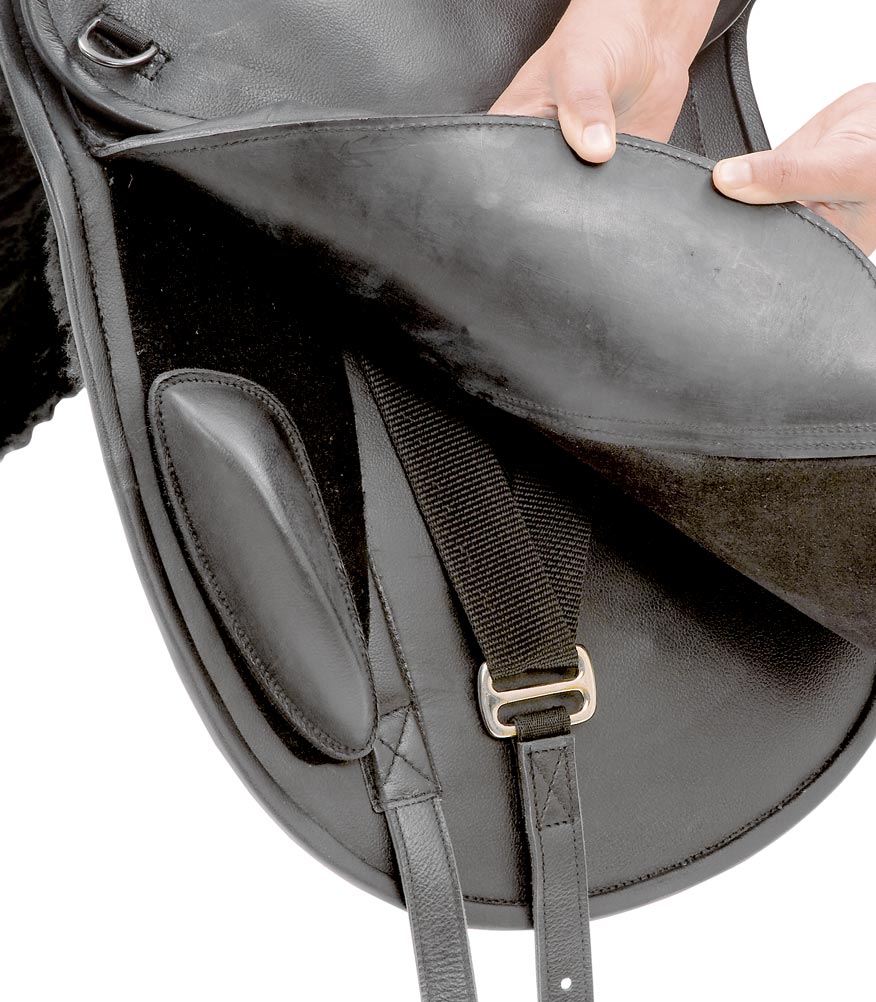 The movable V-strap is often used when a horse has girthing problems. It gives the elbow plenty of room to move and, because the two strands can move independently of one another, the pressure from the girth is distributed more evenly.
Barefoot high quality leather
Barefoot high quality leather
Barefoot Horseaid
With your help, we support animal sanctuaries and animal welfare initiatives! When you purchase an article with this sign, we automatically contribute 1 euro to the Barefoot Horse Aid fund, without passing this on to you by increasing the final purchase price. For more information on Barefoot Horse Aid click here: Link Barefoot horse aid page.
Barefoot® PRO - for an even better riding experience! The new PRO seat allows...
more
Customer evaluation for "Barefoot® PRO 'Barrydale'"
From:
Sandra Kliem
On:
20 May 2023
Gute Entscheidung
Ich habe mich für diesen Sattel entschieden, da es die beste Option für meine Zwecke ist. Jetzt nach 2 Wochen bin ich nach wie vor sehr zufrieden. Mein Pferd hat mehr Lauffreude, geht fleißig und taktrein. Die Einwirkung ist erstaunlich und sie ist schneller zu beruhigen, wenn ihr mal was nicht passt. Man selbst muss natürlich erstmal wieder den Sitz finden, das merkt man sofort, aber man fühlt sich rein. Und ich hoffe, ich tue meinen Pferd auf lange Sicht etwas Gutes. Entspanntes Pferd, entspannter Reiter, so soll das.

From:
Jenny Pfeil
On:
8 Sep 2022
Bequem, tiefer Sitz und zufriedenes Pferd
Wir haben den Barrydale PRO jetzt seit etwas über einer Woche und sind wirklich zufrieden. Vor der Kaufentscheidung wurde ich von Barefoot absolut kompetent, freundlich und toll beraten! Anfangs ist der Sattel natürlich noch etwas steif und ich muss meine perfekte Sitzposition noch finden. Aber der Sitz ist gleich vom ersten Tag schön tief und man sitzt gerade auf dem Pferd. Wir haben bereits viele Sättel mit festem Sattelbaum durch und mein Pferd läuft mit diesem sehr zufrieden, ist locker im Rücken und schnaubt ab. Sehr gute Verarbeitung, schnelle Lieferung, toller Service - absolut empfehlenswert!
From:
Nicole Gerlach
On:
11 Aug 2022
Super bequemer Dressursattel, der dem Pferd gefällt
Wunderschöner Sattel, sehr guter aufrechter und weicher Sitz. Das Sattelblatt ist für mir zu lang gewesen, so dass ich ihn problemlos zurückgeben konnte. Aber mein Pferd hat wunderbar losgelassen getraut, abgeschnaubt und war mega zufrieden. Ich habe ein Modell mit kürzerem Blatt gewählt und auch damit läuft es wunderbar!
Write an evaluation
Evaluations will be activated after verification.
Read, write and discuss reviews...
more