Barefoot® PRO 'Cherokee'
Order number:
PRO-CKE-1-01_02
All-purpose saddle, ideal for trail or cross-country riding.
with PRO seat for a narrower fit.
robust, open-pored cattle leather, dirt-repellent
close to the horse and comfortable seat feeling
with wide stirrup attachment (5cm)
soft padded velcro knee rolls
Barefoot® PRO 'Cherokee'
Barefoot® PRO - for an even better riding experience!
The new PRO seat makes the rider sit narrower and helps to achieve a more upright, hip-friendly seat.
Multi-purpose, horse-friendly saddle model in a great colour combination with a lot of loving attention to detail. Made of robust, open-pored cowhide leather, which is dirt-repellent and surface-treated.
The Cherokee is the perfect choice for trail rides. It is equipped with 8 D-rings, leather conchas and leather straps for attaching the saddle pad and bags.
In the Barefoot saddle you feel the work of your horse's muscles and movements of the back, so it builds the basis for fine riding.
The stirrup attachment (5 cm) can be freely positioned between the seat and the saddle. This allows you to adjust this saddle individually to your seat and body measurements.
The Velcro-positionable knee rolls are also equipped with the AirPump system, which allows air to circulate, so that the knee rolls adapt softly to the contours of your legs.
The changeable pommel (supplied in the medium size) is replaceable, as with all Barefoot saddles.
flexible in all 3 dimensions (X,Y,Z)
no pressure and therefore no restriction of muscle development
with VPS® System
flexible V-girthing
AirPump system
Velcro knee rolls
freely positionable safety stirrup attachment (5 cm)
comfortable seat close to the horse
dense woven fur underside
8 D-rings and conchas with leather straps for attaching saddle pad and saddle bags
colour: brown/black with horse head
sizes: 1, 2
Delivery includes saddle protection cover.
Healthy back due to our VPS System
VPS stands for vertebrae protecting system. It consists of a combination of different materials which enable the rider's weight to be distributed evenly over the largest possible saddle area .Even at a standing trot, the rider's weight is distributed over the entire saddle surface there is therefore no weight restriction for riders. For more information see: Barefoot flyer VPS-System.
Exchange pommel Size Middle
We normally deliver this saddle with an exchangeable pommel insert in size MEDIUM. Each Barefoot saddle is equipped with an exchangeable pommel at the front, which allows it to be adapted to the shoulder width of your horse. With the help of our measuring template you can easily determine the correct size of pommel insert for your horse (Link: Measuring template + instructions).
Adjustable Velcro stirrup suspension
The adjustable Velcro stirrup suspension is attached between the seat and the saddle substructure and is therefore easy to adjust. This means that the saddle can easily be adapted to riders with different leg lengths simply by moving the stirrup suspension either backwards or forwards.
Wide Stirrup-Attachment
Wide stirrup attachment approx. 5 cm width, suitable for wide stirrup leathers and wide fenders.
Flexible V-Girthing - even works for critical horse girth areas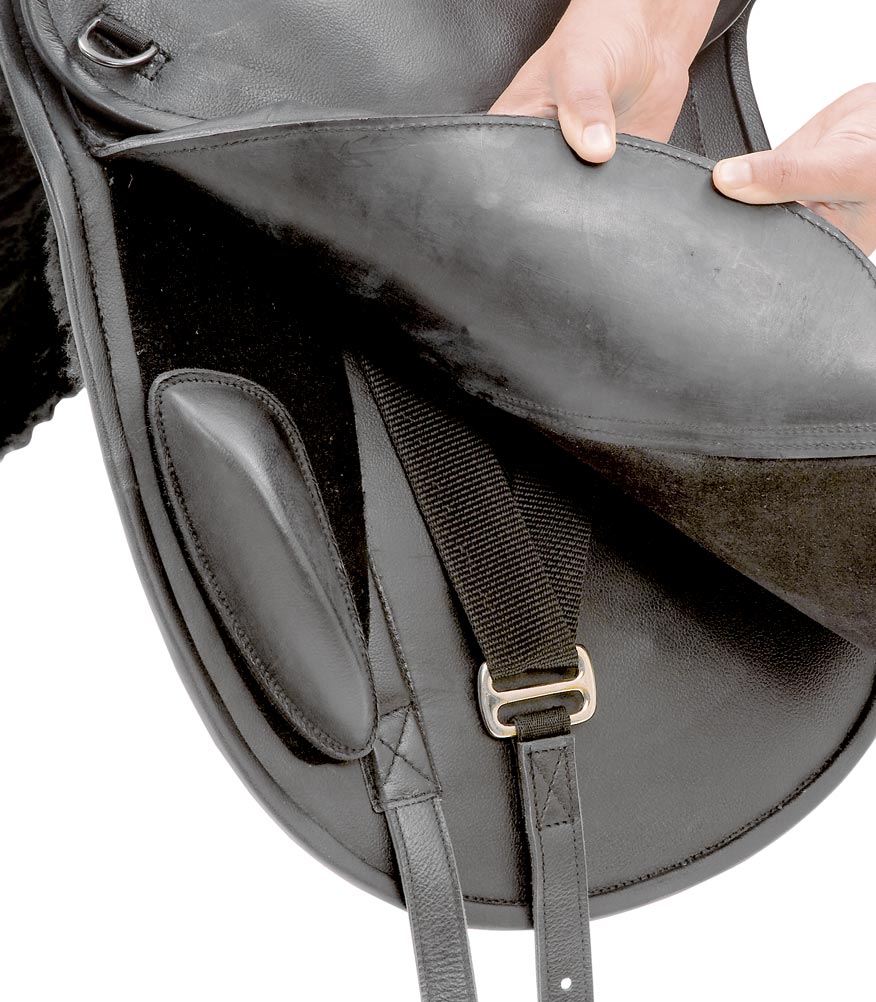 The movable V-strap is often used when a horse has girthing problems. It gives the elbow plenty of room to move and, because the two strands can move independently of one another, the pressure from the girth is distributed more evenly.
AirPumpSystem
This saddle has knee rolls with our integrated AirPumpSystem: Circulating air in the knee roll makes the knee roll pad more flexible, so the knee roll adapts individually to the rider's leg.
Barefoot high quality leather
Barefoot high quality leather
Barefoot Horseaid
With your help, we support animal sanctuaries and animal welfare initiatives! When you purchase an article with this sign, we automatically contribute 1 euro to the Barefoot Horse Aid fund, without passing this on to you by increasing the final purchase price. For more information on Barefoot Horse Aid click here: Link Barefoot horse aid page.
Barefoot® PRO - for an even better riding experience! The new PRO seat makes...
more
Customer evaluation for "Barefoot® PRO 'Cherokee'"
Write an evaluation
Evaluations will be activated after verification.
Read, write and discuss reviews...
more